Gold Medal Goalkeeping 2018 Preseason Crash Course
Megan Huether
Megan Huether is the owner of Gold Medal Lacrosse & Goalkeeping where she offers lessons, clinics and recruiting consultation. A former member of the US National Team, Megan was a member of the 2009 and 2013 FIL World Cup Teams where she returned home from both Prague, Czech Republic and Oshawa, Canada with Gold Medals. She graduated from Duke University in 2006 and served an assistant coach at William & Mary from 2006-2010. While at Duke, Huether received All-ACC honors in 2004 and 2005. She also received First Team IWLCA/US Lacrosse All-American honors and received the C. Markland Kelly Award as the IWLCA/US Lacrosse Goalie of the Year in 2005.
2 Chances to take your game to the next level!
January 15th & February 19th
Grades 4-7: 10:00am-12:00pm
Grades 8-12: 12:15-2:15
Each goalkeeper will receive individual instruction and attention, as well as small group instruction.
Cost: $85 (online or via mail)
Registration, Questions or More Information
megan.huether@gmail.com
www.goldmedallax.com
DRAW TRAINING WITH TAYLOR CUMMINGS
For girls in graduating classes 2018-2024
Learn draw techniques, circle play, communication, play calling, strategy, and more!
4:30-6pm
January 30th
Tuesday February 13th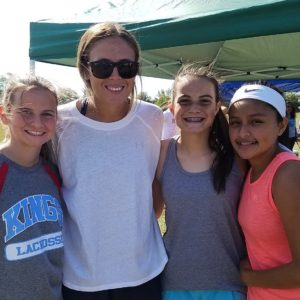 Attack Clinic with Recruit-Her, LLC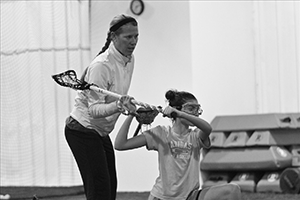 Improve your shooting, dodging, cutting, 8 meters, feeding & footwork!
Clinic is for girls in grades 4-8.
6:00-8:00 pm
February 15
to register, email coachjess@recruitherllc.com
Clinic Director: Jess Oneheiser
USA Lacrosse 2004-2007
2-time All American at Vanderbilt
Former Division 1
Coach Hall of Fame Inductee
Clinic Coach: Amy Roguski
James Madison University Attack/Midfield
Two Time All Conference Player
Two Time All Tournament Team Player
Current Club Coach