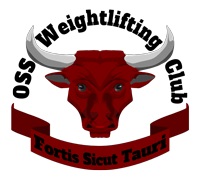 Sign up for USA Weightlifting Combine series with Mario Dispenza!
Contact Mario Dispenza at 443-820-8293 for more information or check out the website at www.ossweightliftingclub.org
Coach Dispenza founded OSS weightlifting Club. He is a competitive master lifter, full-time USA Weightlifting (USAW) National Coach and International Weightlifting Federation Category 2 Official. He has been a certified coach since 2010, and devoted himself to Olympic weightlifting full time in 2014.
IMPORTANT – the OSS Weightlifting Club is a separate business from Goals Baltimore. You will need to directly click on their website link for information. Thank you.
PLEASE NOTE – cats, dogs, any type of pet/animal are NOT allowed in the facility, including the weightlifting studio. NO smoking, NO vaping, NO alcohol, NO drug usage of any type. Please read Goals Rules and Regulations page. Thank you.