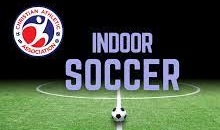 CAA Families – if you are unsure of your CAA team, CAA coach, CAA time to play etc. – you will need to contact CAA Dave or CAA Erin. We here at Goals Baltimore do not know your CAA information as CAA handles their own registration and times while using our facility for their indoor soccer league.
CAA website is Christian Athletic Association
On Saturdays – CAA uses both buildings. You will need to find out through your CAA coach or Dave as to which building you will be in, we will not know that information.
---
CAA parents and coaches – please make sure you are aware of all our Rules and Policies during your time here at GOALS Baltimore. Click here for our Rules and Policies page
---
Here is a brief summary of very important GOALS BALTIMORE Rules and Policies:
All children under the age of 13 must be accompanied at all times by a parent or legal guardian, not another sibling or friend. GOALS does not allow drop-off for any child under the age of 13. Young children must be accompanied to the restrooms. Do not allow your child to run around freely in our facility or in the restrooms, we are an indoor sports facility, not a playground, and we have other groups that reserve or visit our facility too. The facility is owned and operated by GOALS Baltimore, not by CAA.
No one is allowed usage of the court when the court is reserved for other groups. YOU WILL NEED TO CHECK WITH GOALS STAFF TO SEE IF AND WHEN THE COURT IS ALLOWED FOR USAGE. We have many groups that reserve the court and the court is not allowed for others to use while it is rented to those specific groups. If there is a private birthday event at the court bleachers area, no one is allowed to go over and bother that birthday group, it is private. Please be responsible.
PETS/ANIMALS of any sort ARE NOT ALLOWED inside any of our facilities. You WILL BE ASKED TO STAY OUTSIDE of the facility with your pet. No arguments with staff, this has been a policy of GOALS for many years.
Alcohol, beer, etc. smoking, vaping, etc. drug usage of any sort, etc. knives, weapons of any sort, certain food items as shelled sunflower seeds etc. fighting, abusive behavior and language etc. ARE PROHIBITED AND NOT ALLOWED IN ANY OF OUR BUILDINGS and you will be asked to leave the building.
CLEAN UP YOUR TRASH AND ANY MESSES. Be responsible. Set a good example for your team and others. Please do not leave your mess or your team's mess behind. There are other families and groups coming in after your group. If your player needs to throw up, send them to nearest trash can toilet. You are responsible for cleaning up the throw up, bodily fluids, blood, etc. NOT GOALS STAFF.
NO arguments with staff or referees. You will be asked to leave. Be responsible, set a good example.
CLEATS ARE NOT ALLOWED ON TURF FIELDS, turf shoes only. SHIN GUARDS are required. SLIDING and TACKLING are not allowed. Be sure you are familiar with our Sports Rules and Policies.
TIME CLOCKS MUST FOLLOW THE TIME AS INDICATED ON THE GOALS SCOREBOARD – NOT THE TIME ON YOUR WATCH OR PHONE.
NO OVERTIME ALLOWED. There are groups reserved after your group and you are required to end on time and be off the field/court in time for the next group to enter on their time. If your group tends to run overtime, you must reserve extra time to accommodate your group's need for overtime. If you have sports balls that go over the walls, you must stop early enough on your time to retrieve the balls, overtime is not allowed and you are not allowed to prevent the next group from entering on their time.
This is only a brief summary of our Rules and Policies.